Now available: Socks, shirts, and tartans personalized to your DNA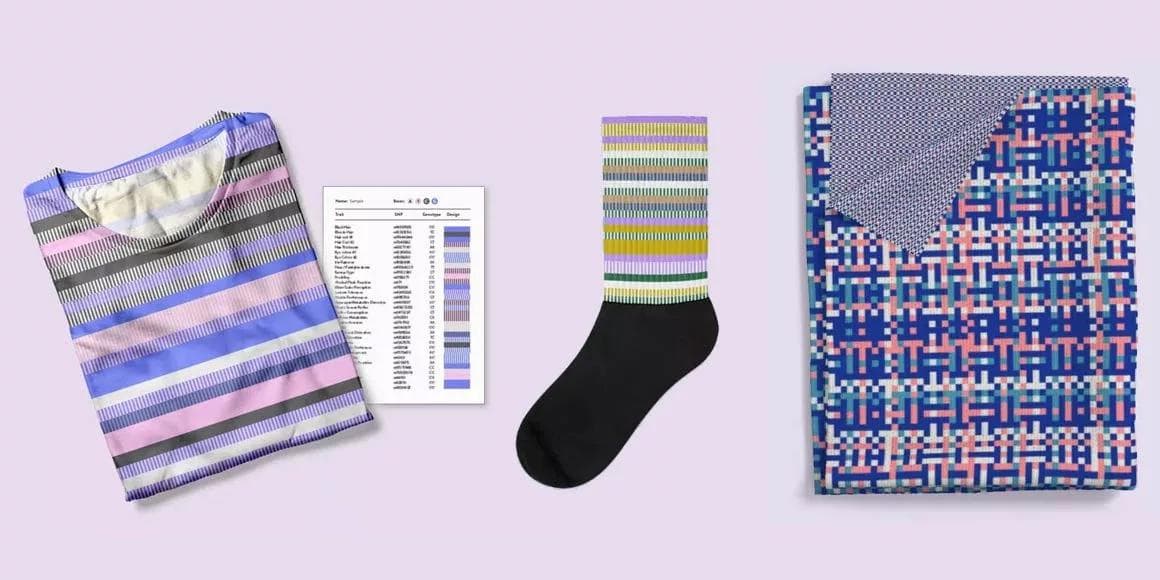 Since we launched the Helix Store a few months ago, a funny thing has started happening in the Helix office: colorful scarves have started showing up in droves, draped on chairs and around employees' shoulders. Every time a new one shows up, it's usually accompanied by someone shouting, "I got my scarf!" while a small crowd gathers to see it up close.
Why the commotion? These are Personalized Scarves from Dot One, made using information from your DNA and a selection of colors that you choose. Dot One looks at 33 genetic markers to design an accessory that's entirely unique to you—it's safe to say that no one else in the world will have a scarf that's exactly like it.
Seriously: we've tried doing the math on how many different scarves Dot One could make, and the numbers are hard to fully grasp. When you take both genetics and color combinations into account, there are more than 200,000,000,000,000,000,000 possible scarves.
If you were to stack these scarves end-to-end, they'd be over 46,000 light years long. That's enough warm, fashion-forward Italian wool and poly blend to get to our closest star beyond the Sun—Proxima Centauri—and make the return trip to Earth over 5,000 times!
I know it's not good to have favourites.. but it's hard not to with 📸 like this! Thanks @justin.sayarath . . . . #dna #dnatest #helix #genetics #dnapersonalized #dnascarf #genetictesting
A post shared by Dot One (@dotone.io) on Sep 27, 2017 at 2:16am PDT

Look, that's a lot of scarves. And it's one of the reasons we're so excited that Dot One is adding three more products to the Helix Store, available starting today:
Personalized Socks: Why wear your heart on your sleeve when you can wear your DNA on your feet? These black socks have bands of color running up the ankles, customized using 33 positions in your DNA.
ACGTee: This colorful unisex t-shirt is almost certain to be a conversation starter. Available in six sizes.
ACGTartan: What's a tartan, you ask? It's a cloth pattern that's often associated with Scottish clans or regions—depending on where you're from, you may know it as "plaid." The ACGTartan is 104 x 74cm, big enough to use as a throw or an enviable picnic blanket at the park.
Like the Personalized Scarf and Personalized Print, these new items use your genetic data to generate customized patterns that you won't find anywhere else (unless you have an identical twin!). They're uniquely you. They even come with insights to explain the genetic markers that Dot One uses, and how that DNA translates to beautiful bands of color in the final product.
Sure, there are lots of ways to express your personal style—a hat, a jacket, a pin, a colorful pair of shoes, the list goes on. But with the help of your DNA, we think that Dot One has taken personal style to a whole new level.