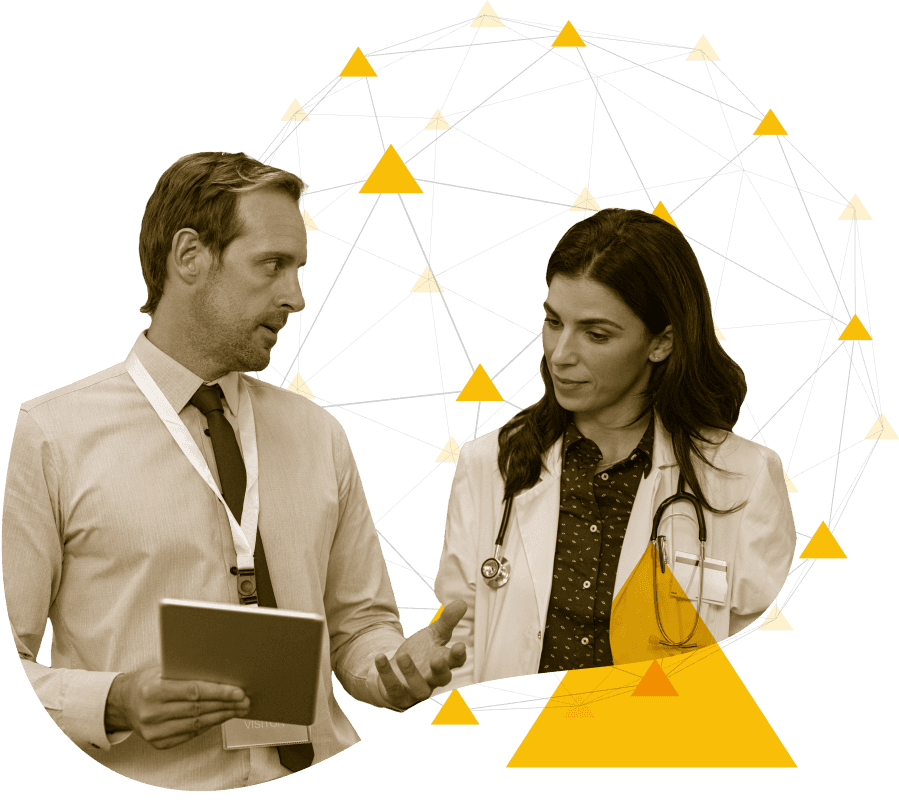 Health Systems
Building an Enterprise Genomics Strategy
We enable leading health systems in competitive markets to gain a significant strategic advantage by improving clinical outcomes, driving community engagement, and creating profitable growth opportunities.
Contact Us
Genetic Insight for Clinical Value and Strategic Growth
Today's healthcare model falls short of capturing the full scope of genetic risks for health systems, hindering personalized care. By incorporating genetic data into our risk assessments, we elevate clinical outcomes and pave the way for continuous strategic growth through our precision medicine initiatives.
Clinical Strategy
Elevate patient outcomes and cut costs through early identification of at-risk individuals that focus care on essential medical procedures. Transform your health system into a model of efficiency and quality.
Market Strategy
Our proactive approach blends market differentiation and personalized medicine to inform patient behavior.  We tailor our partnerships to reach previously under-represented and diverse patient populations.
Data Strategy
Genomics is a missing pillar of a health system's data strategy.  Integrating genomic data into a health system's ecosystem brings new research and population health opportunities to life.
What makes Helix different?
Our collaborations make our team an extension of your own.  You gain insights from our years of experience and best practices from your peers on a similar journey. Combining these shared learnings with our mega-lab designed for scale, we'll work together to drive the industry forward.
The Helix Approach
A demonstrated genomics strategy optimized for your health system.
01
DEDICATED AND EXPERIENCED TEAM
It takes a team; we assign a dedicated team of veteran EHR consultants, geneticists, marketers, clinicians, and bioinformaticians to provide you with concierge-level service.
02
OPTIMIZED EHR IMPLEMENTATION
Our end-to-end implementation seamlessly fits into your existing IT infrastructure.  We are EHR agnostic and speak API fluently, so no matter where you are on your IT journey, we can help.
03
SEAMLESS LAUNCHES AND BEST PRACTICES
Our advisors work with your departments to create deployment strategies that rapidly scale enrollment in a smooth, adaptable launch to maturity. Our advisors share best practices and track KPIs to keep enrollment on track.
04
SMART ENROLLMENT AND DIGITAL CONSENT
We expand patient access and involvement by digitizing front-end enrollment into a consumer-friendly, self-service approach. We provide a user-friendly electronic consent module for you and your participants.
05
ENHANCED PATIENT ACCESS
We collect saliva or blood samples at home or in your facilities to allow as many individuals to participate as possible. Expand your footprint and out-of-hospital experience and meet your patients where they are.
06
SCALE THROUGH SEQUENCING
Samples are sent to our CLIA/CAP next-generation lab to be sequenced, where they're made eligible for digital re-use for pharmacogenetics and several other diagnostic panels using our proprietary Sequence Once, Query Often® model.
07
ACTIONABLE CLINICAL RESULTS
We send results on actionable genetic conditions back to the EHR to ensure clinicians and genetic counselors have the right information at the right time.
Partner Perspectives
Learn more about population health programs powered by Helix
HealthPartners has launched myGenetics, a population genomics program that will provide important health information to families across Minnesota and surrounding states.
For more information about our partners, see: partner page or resource center
Contact Us
Please fill out the form and we will get right back to you.