The Challenge
Renown Health strives to ensure no patient is overlooked.

As part of the Healthy Nevada Project (HNP) expansion, Renown Health Institute for Health Innovation (Renown IHI) sought to engage 40,000 Nevadans in a large-scale genomics research initiative to drive novel discoveries and improve clinical care.
This meant that besides needing participant-friendly engagement tools, they needed next-generation sequencing technology to produce clinical-grade data at scale. Historically, this would have required coordinating with multiple partners.
The Solution
A collaboration with Helix, which offered Renown healthcare expertise and an end-to-end population health solution.
Renown Health worked closely with Helix to leverage its end-to-end population health solution. Helix's participant-facing engagement tools, in-house clinical and scientific expertise, clinical-grade Exome+® assay, and next-generation sequencing lab (one of the world's largest) provided this project with powerful tools that helped it become one of the fastest-growing population sequencing initiatives in the United States.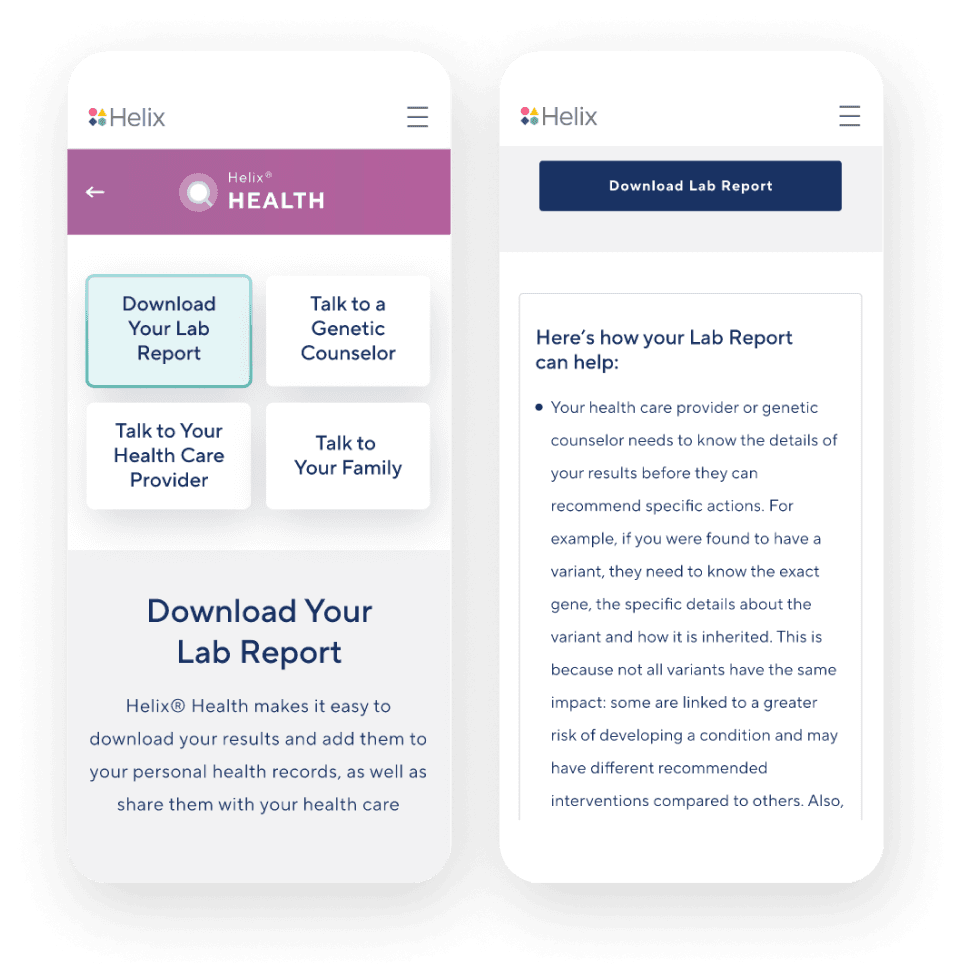 More Than an Exome
Each participant's DNA was sequenced using the Exome+® assay—far surpassing the amount of data collected in other comparable initiatives—enabling Renown IHI to deliver actionable insights to their patients and create a comprehensive research database that would allow them to become a leading innovator in precision health.

The Exome+® assay covers the entire exome plus more than 300,000 informative non-coding regions available to help participants (and their physicians) continue learning from their DNA over time.
20K genes sequenced per participant
One sequence equals a lifetime of insights
The Results
Renown IHI raised the standard of care in their community in under a year with one of the most extensive sets of genomic and health data.
Unprecedented Pace
Within 6 Months:
20,000+
participants recruited, sequenced, and given results
40%
of non-Renown patients establish a relationship with Renown
Measurable Clinical Impact
1 in 75
were at-risk for at least one serious, actionable genetic condition across CDC Tier 1 conditions:
Familial Hypercholesterolemia (FH)
Lynch Syndrome (LS)
Hereditary Breast and Ovarian Cancer (HBOC)
90%
would have been missed under current medical practice
22%
had already developed indications of disease
Research Advancement
The Partnership Continues
Renown Health has increased its program goal from 40,000 to 250,000 participants in Nevada. Through collaboration with Helix, they have released research showing the positive impact of broad population preventative genetic screening and the potential for novel discoveries using the Exome+® assay.
References:
1. Grzymski JJ, et al. Population genetic screening efficiently identifies carriers of autosomal dominant diseases. Nature Medicine. July. 27, 2020; https://doi.org/10.1038/s41591-020-0982-5.
2. Cirulli E.T. Genome-wide rare variant analysis for thousands of phenotypes in over 70,000 exomes from two cohorts. Nature Communications. Jan. 28, 2020; https://doi.org/10.1038/s41467-020-14288-y