My DNA story: Iona Inglesby, founder of Dot One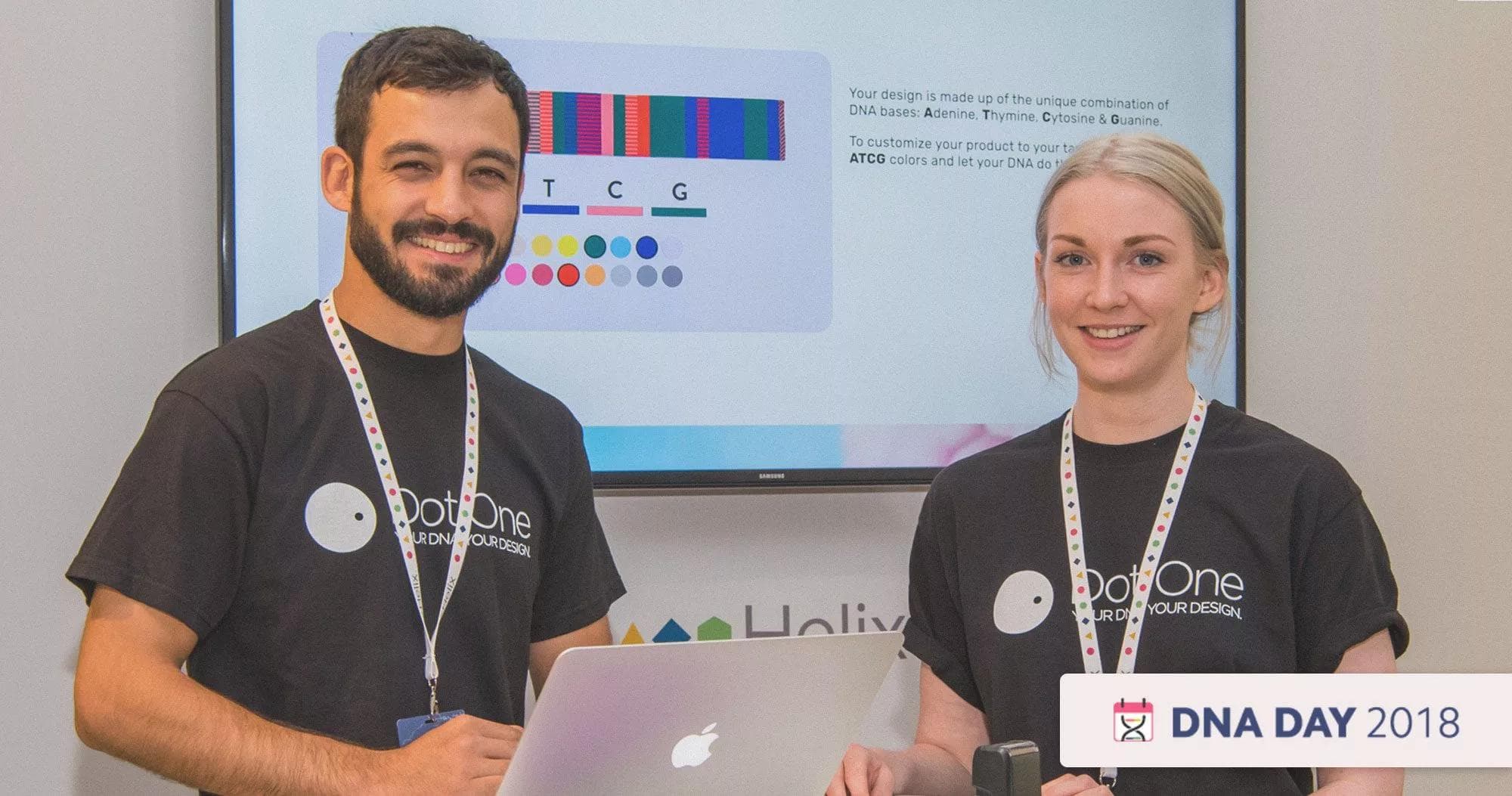 April 25th is DNA Day! In celebration, we've worked with some of our partners to hear their DNA stories—how they got into genetics, what inspires them most, and what excites them about the future of personal genomics.
Iona Inglesby is the founder of Helix partner Dot One, which offers a variety of unique keepsakes that are customized to your DNA. In addition to her work with Dot One, Inglesby is an illustrator, freelance designer, and occasional husky trainer. You can find Dot One's products—from scarves to tartans to totes—in the Helix Store.
---
I've always been interested in the relationships that people form with objects; in particular I'm fascinated by the idea that objects can tell complex stories. I love that objects and visualizations can be used as a tool to help communicate and make information more digestible. In the case of Dot One's projects, data can be visualized and becomes a tactile object with which people can form emotional connections.
It was a unique road that lead me to form Dot One, but this background allowed me to approach genetics with a unique perspective that wasn't constricted by pre-determined ideas of the field. Sometimes it's better to be an outsider—then you can approach topics from a different angle.
Though I have a degree in Product Design, I have always been interested in science and data. I remember when I was about 8, I was taken to the Centre for Life, which is a science museum in Newcastle that's heavily focussed on DNA—I loved it and it made a huge impression on me. Since then, my creative work has always been influenced by scientific phenomena. My passion for fusing science and art came to a head about 3 years ago when I took part in a Synthetic Biology workshop while working on my degree. Learning about the vast wealth of information that's just waiting to be tapped in DNA was exciting, and that feeling grew as we learned that discoveries are happening right now. The field is changing every day! I knew that I wanted to somehow incorporate this into my creative work.
Sometimes it's better to be an outsider—then you can approach topics from a different angle
After that initial taste of genetics, I went on to develop a project through my university which would eventually turn into what Dot One is today. My project was working with a Scottish weaving company who developed Tartan fabric—I loved the idea that each Scottish family had their own patterned material which not only represented them, but could be passed down through generations. But I was surprised to find that the Tartan's colors and lines were chosen arbitrarily. Here I saw an opportunity. I wanted to create a new form of fabrics which intrinsically represented people, and so set about creating my family's DNA personalised Tartan using genetic data as inspiration for the patterns and colors. This project got awarded a 3/10 grade by the course leader, and I was told that it has "no commercial value."
But then I guess he didn't know about the new market of Consumer Genetics! I knew he was wrong, and so went on to develop my project into a commercial business. There's been a lot of learning and pivots along the way, but it's a small startup company, so that's all part of the journey! As it happens, it was a great time to start working with DNA. There were a lot more genetics companies advertising their services which—for the general public—normalized the idea of DNA sequencing. There were even huge commercial brands like Unilever's Marmite Gene Project and Momondo's "DNA Journey," which were using genetics in their marketing campaigns. The general visibility of DNA testing really helped accelerate Dot One's acceptance by familiarizing people with what sequencing is all about, and decreasing their initial shock when thinking about DNA testing.
One great turning point for Dot One was when we joined the Helix marketplace. This opened up an entirely new channel of potential customers for us in the US market. Helix helped simplify our business model which allowed us to focus efforts on building other creative ways for people to interact with their DNA.
It has been a few years now since my Synthetic Biology workshop, but I'm no less excited about the future of personal genomics. I'm eager to see how cheap and accessible testing will become and what impact that will have for consumers. Specifically, I think we'll see change in the health world as genomics pushes the progression of precision medicine and preventative care. I'm even hopeful that we'll see preventative care adopt an approach that has a heavy focus on behavioral change—particularly as we gain more data on this topic.

Beyond just the science, I'm hugely inspired by the amount of potential in the field of personal genomics. I couldn't be more convinced that young people should think about entering a career in genetics—there are so many ways to build a career around DNA that's not just limited to the lab. You could end up combining genetics and your passion through work with a sportswear brand, a nutrition company, or even as a designer! And even if you're not interested in choosing a career at the moment, I think it's vital that you take an interest in DNA and get clued up—personal genomics is becoming something that people will encounter more and more, especially as it starts to affect the health system more globally. With the industry booming, it's really important for people to understand their own data, what they can do with it, how they should protect it, and the ethical arguments they may encounter regarding their DNA.
I'm captivated by the power of design and the potential of genetics. My passion is the result of a lifetime of experiences in both science and art—and I look forward to continuing to use this passion to help people engage with their DNA in more fun and accessible ways!