Top Viral Surveillance Insights: COVID positivity rises right before Thanksgiving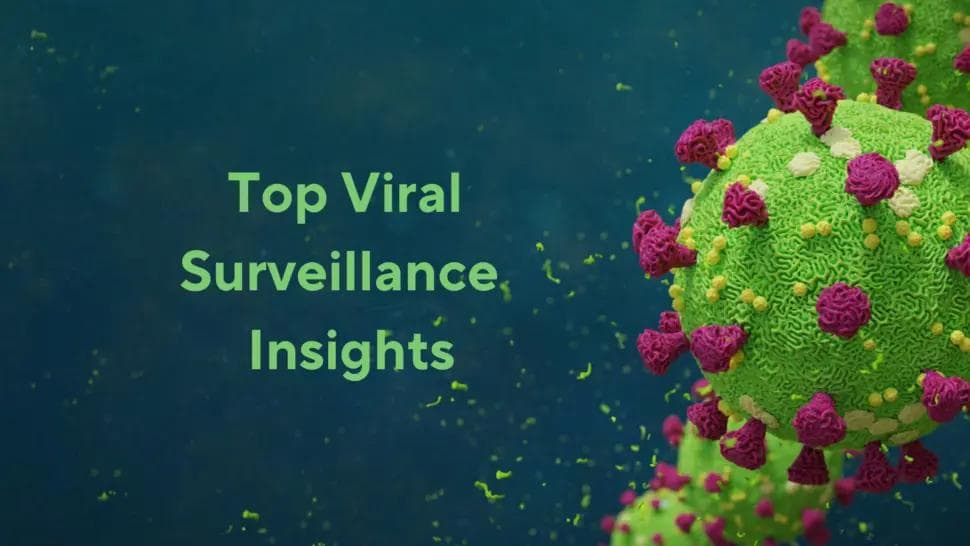 Our latest COVID and flu insights as you start prepping for the holidays. Top takeaways:
For the first time since July, we are seeing slight increases in COVID positivity rates, with highest growth in individuals 18-24 years old. COVID cases look to be rising slightly now, specifically in 18-24 year olds. While it initially looked like the recombinant variant XBB might have a faster expected growth rate, BQ.1 and BQ.1.1 (which have several mutations that result in immune escape) now make up 30% of the positives we've seen, and we expect to grow pretty quickly in dominance in coming weeks. This is against the backdrop of cases coming down in France and Germany, but increasing in South Korea and Japan (driven by BA.5.2 and its subvariants, which are not circulating broadly in the US).
Figure 1. COVID cases are rising slightly, specifically in 18-24 year olds.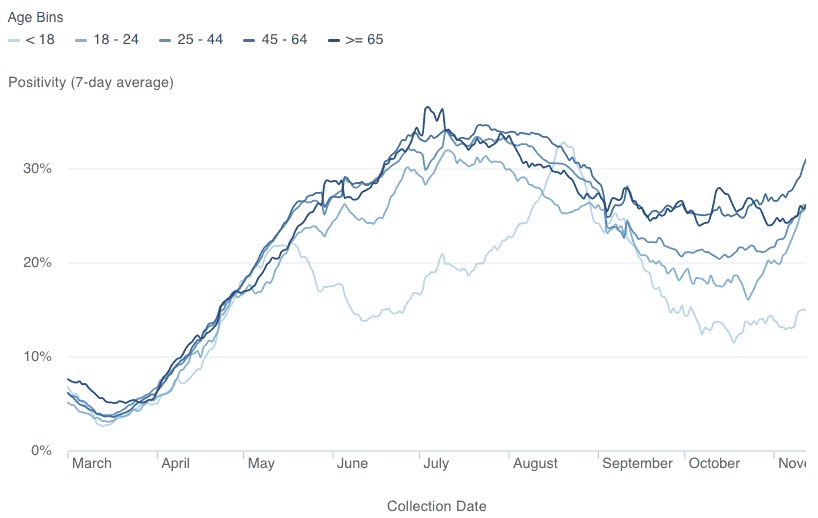 There have been significantly fewer coinfections with other viruses than expected. Given test positivity rates, we would have expected to see more coinfections with RSV or flu than are actually occurring. This is most likely because when someone is sick with one virus, they're not mingling with the broader community and so are less likely to catch another virus. Interestingly, the coinfections that are occurring are mostly with RSV; and while much of the media is focusing on RSV spreading in children, we are also seeing it detected in older age groups as well.
Figure 2. Most coinfections are occurring with RSV-A right now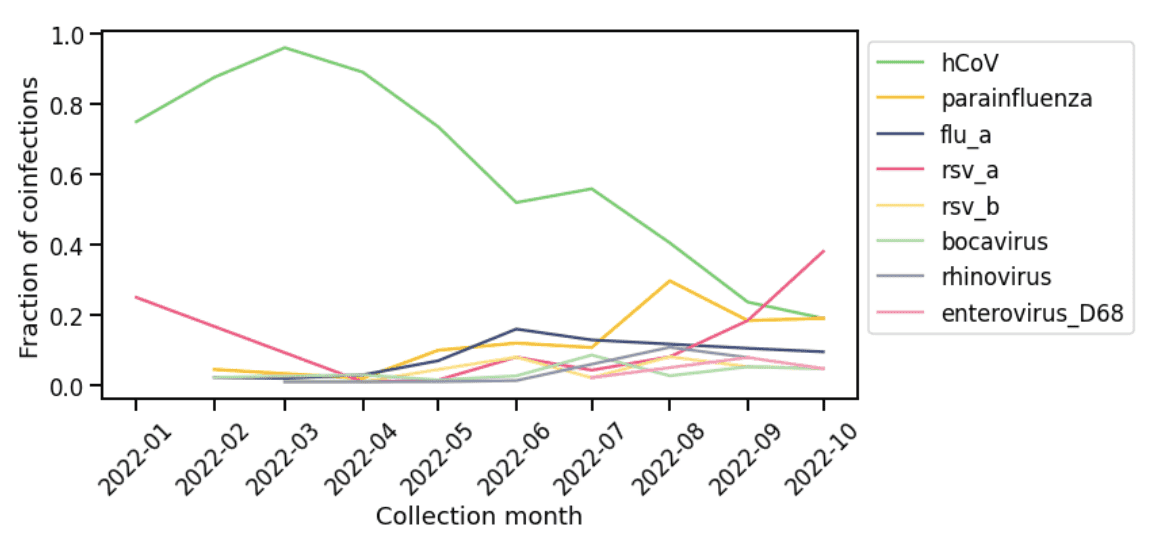 COVID reinfections are up by ~2-4% and are likely due to both waning immunity and increased variant diversity. Reinfections as a fraction of total infections are expected to rise, by definition, as more people get infected. But we also track the <90 day reinfection rate as a proxy for the level of pre-existing immunity against circulating variants. Since June 2022, there has been a slight uptick in reinfections within 90 days which indicate the virus has been evolving quicker than before, and as we see with all the new subvariants that have arisen. Despite this, the vast majority of reinfections overall are still occurring after 180 days from their original infection.
Figure 3. Reinfections now make up about 8-10% of COVID infections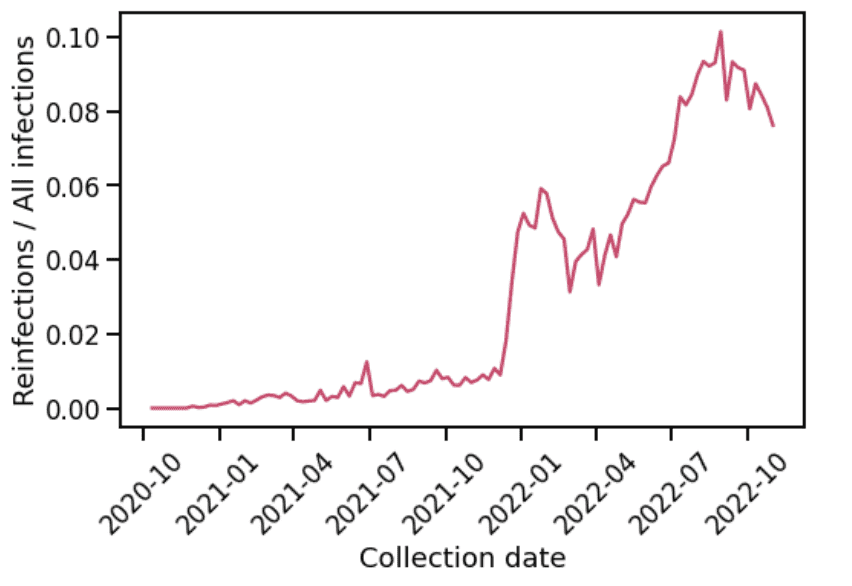 Figure 4. Reinfections within 90 days have increased slightly in the second half of 2022 which indicate the virus has been evolving quicker than before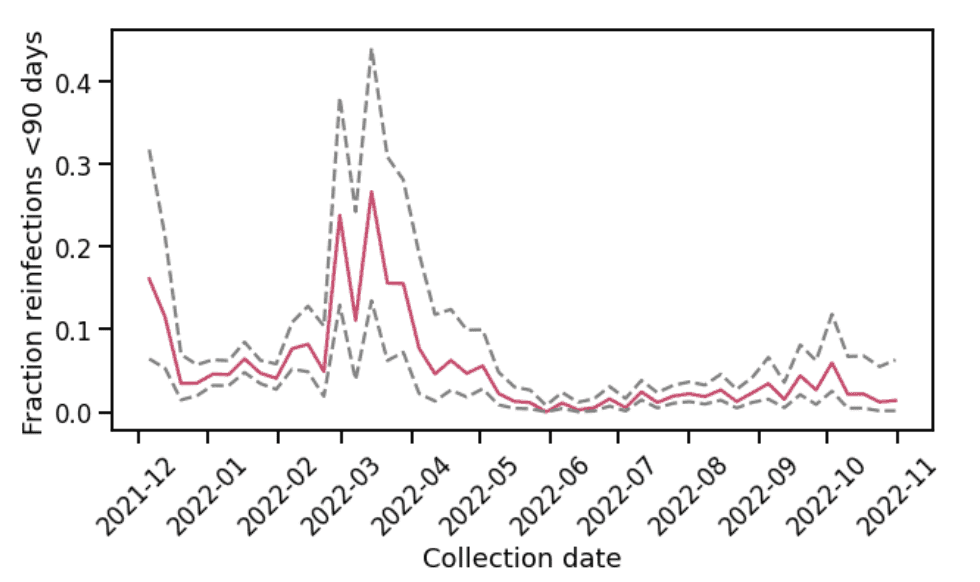 Figure 5. Overall, most reinfections occur after 180 days from their original infection