Helix Delivers One Millionth COVID-19 Test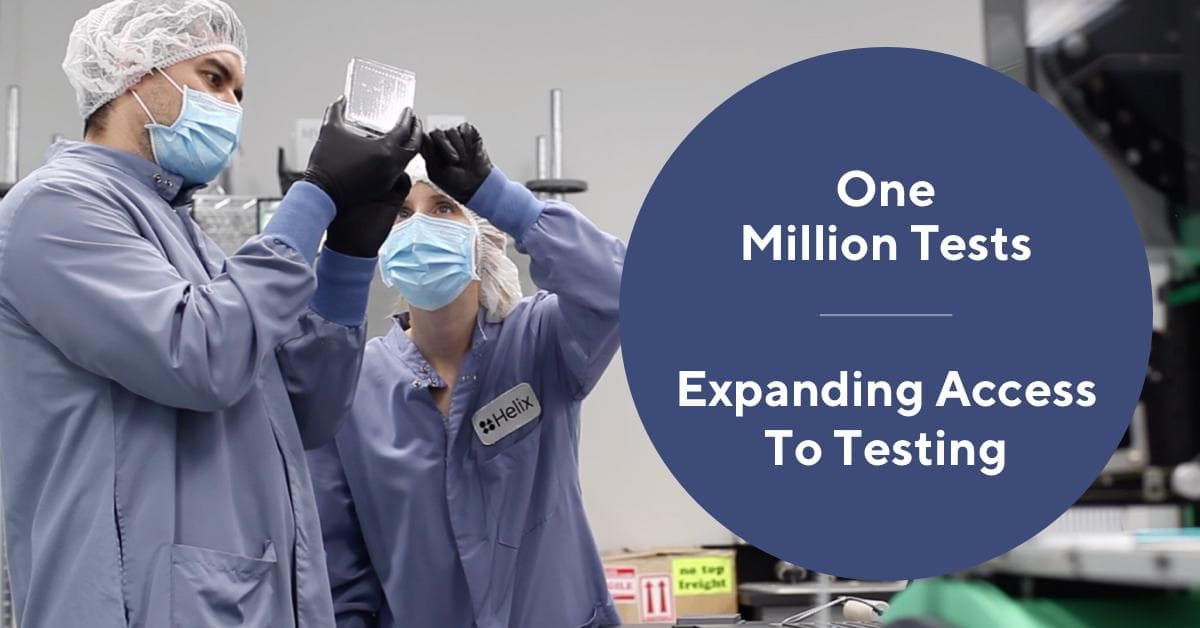 Today, we're excited to announce a major milestone – we've delivered 1,000,000 COVID-19 tests since we first launched our testing in late June. While we've been scaling rapidly since then, we've recently accelerated tremendously, with over half of these tests being delivered in just the past four weeks.
The past four months have been full of milestones, from our partnership with San Diego County, to our NIH RADx funding and our recent EUA expansion. But, this one is a particularly meaningful one. For us, one million reflects more than the number of tests we've completed thus far – it's one million lives we've directly helped and countless others who may be shielded from infection thanks to the early detection and quarantine of COVID-19 patients. We feel honored to be able to help our communities in this way.
In parallel to our testing efforts, we've also been hitting milestones on the COVID-19 research front. Members of Helix's research team have contributed to the publication of three peer reviewed articles—two published in Science1,2 and one in the New England Journal of Medicine3—each of which focused on the genetics of COVID-19 severity. Highlighting the large impact these studies have had on the world's understanding of COVID-19, findings from these papers have been referenced more than one hundred times since June. This is in addition to four preprint articles that the team released earlier this year and several more in development.
And, while we're proud of this milestone, we're not done yet. We're committed to continuing to scale to meet our partners' needs, while maintaining our next-day turnaround time.
The COVID-19 pandemic has been full of uncertainties, but one thing has been steadfast – the commitment and dedication of the entire Helix team in helping achieve this major milestone and make a truly significant difference in the state of COVID-19 testing across the country. We're proud to be supporting partners across the country – including healthcare providers, employers, governments, and the communities they serve.
References
1. Bastard, Paul, et al. "Autoantibodies against Type I IFNs in Patients with Life-Threatening COVID-19." Science, vol. 370, no. 6515, 2020, p. eabd4585. Crossref, doi:10.1126/science.abd4585.

2. Zhang, Qian, et al. "Inborn Errors of Type I IFN Immunity in Patients with Life-Threatening COVID-19." Science, vol. 370, no. 6515, 2020, p. eabd4570. Crossref, doi:10.1126/science.abd4570.

3. Ellinghaus, David, et al. "Genomewide Association Study of Severe Covid-19 with Respiratory Failure: NEJM." New England Journal of Medicine, 8 Oct. 2020, www.nejm.org/doi/10.1056/NEJMoa2020283.